BT-01 £49.99
Bluetooth Handsfree Rear View Mirror with Rechargeable Battery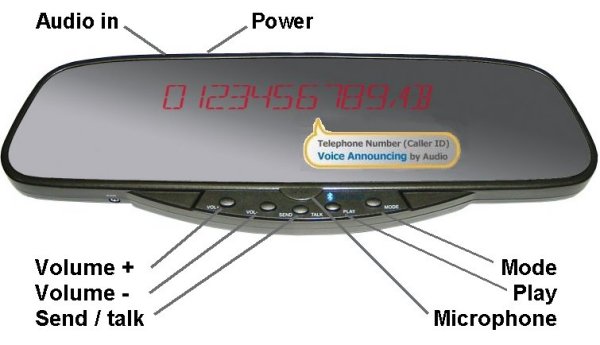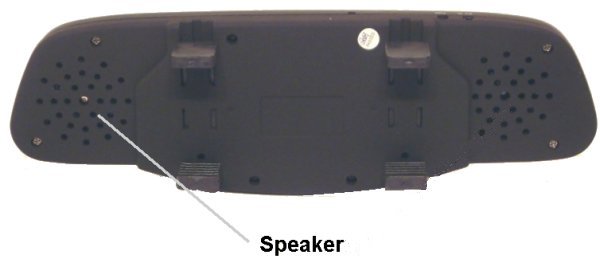 Drive safely and take calls handsfree.
The system comes with a rear view mirror with an inbuilt LED display to caller name or number display. When the battery is fully charged, the standby time is about one week. Everything is boxed and comes with user's manual and installation guide.
FEATURES:
Blue tooth 2.0+EDR, compatible with ALL blue tooth enabled mobile phones
Caller ID indicate with large LED lights
Phone book for maximum 200 address list
Select last 10 calls dial-back from Bluetooth mirror
Voice dial and last number redial
Noise suppression and echo cancelation technology
AVRCP profile integrated, control the audio playback when used with Blue tooth USB dongle
Built-in microphone and built-in dual stereo louderspeakers
Built-in FM frequency transmitter which connects to your car stereo
Built-in rechargeable battery
Universal audio input for audio devices, such as iPods, MP3, MP4 to enjoy wireless stereo listening
Stereo earphone provided for total private conversation.
Easy installation, the mirror simply clips over the top of your existing mirror
SPECIFICATIONS:
Effective distance between mirror and phone : 8 meters
FM transmitter distance : 8 meters
Power Consumption (Max volume,during conversation) : 5W
Audio distortion (1KHz/1000mv input) : 0.3%
Audio channel separation(1KHz) : 45dB
Audio S/N(1KHz/1000mv input) : 50dB
Speaker output power (1KHZ/1000mv input,max,volume) : 0.5W
Headphone output level (1KHz/1000mv input,32 OHM loading) : 0.8V
Mirror size (L x H) : 285 x 90 x 24 mm
Stereo earphone is provided
For those calls that you'd rather keep to yourself. For total privacy an earphone is provided. Simply place into your ear to ensure your passengers aren't able to over hear your conversation.
Maximum Sound Quality
Not only will minimize all road noise to ensure high quality communication, it also blocks out echo and radio signal interference. To maximize this even further, you can easily connect the sound to your car stereo through a built in FM frequency transmitter.
BT-01 £49.99